How To Liquidate A Business With Auction Masters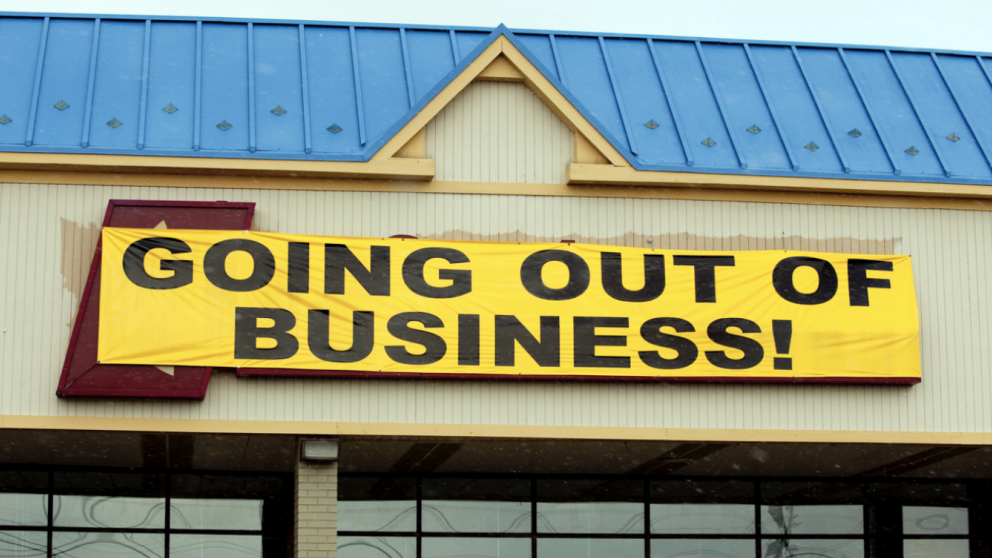 You've been in business for 25 years. You've spent long days and nights building what has become a world-class operation. You've seen wonderful success over the course of this journey and now it is time to turn down a different path. Maybe you are exploring a new type of business model. Or, maybe you just want to enjoy the next part of your life and island in the Caribbean for a few years. Regardless of your next plan, your first order of business is getting the current one liquidated.
If you have decided to close your company and are not able to merge it with another business in your niche, sell it to investors, employees, another like-minded entrepreneur, or pass the business down to your next family generation, then liquidating your assets could be an appropriate and profitable exit strategy. Before you stick a for sale sign out front, start selling pieces of equipment, or turn off the power and water to your building, it's a good idea to put together a plan that will allow you to leave behind your current with a peace of mind.
In this article, we'll talk about why we believe that liquidating your company in an auction could be the most efficient and value adding avenue. We'll walk you through the process of appraising your business. Then we'll show you our simple process for liquidating your business through the power of online auctioning. Finally, we will briefly introduce the idea of selling your business as a going concern. This special type of sale will be covered more extensively in a new article next month. So stay tuned!
If selling your company has proven to be your best option, then this article will help.
There is something you should be certain about from the very beginning. Conducting a profitable auction requires a precise and well-versed technique. With the consumer world moving faster and faster towards digital experiences, it is more important than ever that you reach out to experts who understand new selling trends and how to best capitalize on those trends.
At Auction Masters, we walk you through the proper ways to do diligence while preparing for your sale, ensuring your auction will be conducted in the most successful way possible. We help you identify the necessary steps you should consider in preparation for your liquidation. We also help you understand why it is important to work with a trusted team who has years of experience helping thousands of businesses through this process.
Work With Certified Appraisers
Meet with one of our certified appraisers. Take a walk-through.
First, our appraisers at Auction Masters are USPAP (Uniform Standard of Professional Appraisal Practice) certified. This certification ensures that all of our appraisal reports meet industry standards. Also, they represent compliance with the laws of jurisdiction in regards to your appraisal report.
Our appraisers provide you with accurate and credible values for your equipment. As you are likely beginning to see, employing an expert appraiser is first on our list because we feel it is the most important step you can take towards success. Working with an appraiser who has successful experience, a trusted network of sales support and qualified buyers, and a reputation for doing the right thing is valuable beyond measure.
If we could humbly take a moment to give our appraisal team a pat on the back. We've worked hard over the years to find the most qualified, most reliable appraisers in the industry. This is why so many businesses continue to choose Auction Masters for appraising and liquidating their businesses and equipment. Our team seamlessly walks every client through a series of comprehensive services to get them the most value for their sale. We work with business owners from the beginning to the end of the auction process. On a deadline? That's where we shine. We pride ourselves on the ability to meet urgent timelines.
The Auction Masters appraisal process is usually a straightforward set of actions that will help you determine the value of your products. There are five easy steps.
Identify the equipment to be appraised.
Understand the equipment's use, select the market, and best selling conditions.
Collect all of the relevant information to determine your equipment's value.
Use the appraiser's available resources to find comparable pricing for similar equipment.
Provide estimates of the fair market value and liquidation value for your equipment.
Selling As A Going Concern
One method to consider which our team at Auction Masters can assess for you is selling your business as a going concern. Essentially, you are selling your business with every item required to continue operating the business. This method will include the owner selling the business to a purchasing party with everything needed for the new owner to continue operating the business. As part of the agreement, you as the current owner must keep running the business up until the settlement date. We will cover this topic thoroughly next month and how we can help you assess if this is a good option. In the meantime, let's look at the next step in liquidating your business, no matter the method that works best for you.
Initiate Our Proven Sales Process
Identify assets. Categorize inventory. Assess the opportunity. Prepare the items for sale.
Our next step is to prepare for and initiate our sales process. To do this, we take a granular look at the current inventory in your business. We catalogue every sellable piece of equipment with photographs, serial numbers, and any other important information pertaining to the equipment. This inventory process will save considerable time, effort, and even expense as you move through the sale process.
We now start preparing all of your assets for the sale. There's no reason to reduce the appeal of your most attractive items by attempting to mix in outdated and/or worn-out equipment, furniture or other inventory items. You may want to consider donating these items to your favorite charity. They could give you some valuable return as tax deductible donations.
At Auction Masters, we've created very effective digital and traditional marketing strategies to reach your most valuable customers. Our network of professionals specialize in selling to markets of all types. Our goal is to make sure you have the easiest, most successful sale possible.
When it comes to selling business equipment, our focus is on client success. We place the seller's best interest first with a tried and true system for selling and delivering on the best experience possible.
Part of our winning process is introducing smart phone auction solutions to our auction experience. We provide all of our customers with a streamlined selling and buying experience that is easy to use on any type of device.
The mobile and smartphone integrations are intuitive and very easy to use. The team at Auction Masters recognized that mobile phones are powerful bidding tools. With that realization, we put our focus on mobile technology to make it easier for bidders and sellers to participate in auctions online using the device that is always in their pocket or close by.
Before you decide to tackle the massive job of liquidating your business equipment alone, give Auction Masters a call and see if we can be of service. You shouldn't settle for less than you deserve. Call Auction Masters today and let us show you how to make your sale a success!
---